PICK-UP – Please have trash out by 7:00 a.m. to ensure pick-up. All trash must be in tied plastic bags (per Cobb County Solid Waste Ordinance Sec. 102-69). Rates are based on average household waste; persistent excess garbage may require additional charges.
YARD WASTE – We can take 7 bags (30 gallon or less) or bundles of yard debris per pick-up. Each bag is not to exceed 40 lbs. Bundled tree branches and plant trimmings must be no more than 2 inches in diameter and 4 feet long. No rocks, dirt, stumps, concrete, large tree limbs, etc.
PAYMENTS – Payments not received 10 days after the due date will be assessed a $10 late fee. Accounts more than 30 days past due are subject to interruption. Returned check charges are $25. Pay online or by phone with MasterCard, Visa, Discover Card or American Express. Credit Card Auto Pay is available.
ITEMS NOT ACCEPTED – It is illegal for us to pick up gasoline, motor oil, acids, liquid paint, tires, etc. We can take paint that is completely dried (add cat litter and leave lid off), or call www.atlantapaintdisposal.com at 404-333-8763. We can pick up most items the compactor will crush – no large appliances, sleeper sofas or construction debris like tile, carpet and concrete. Referrals available for items not accepted.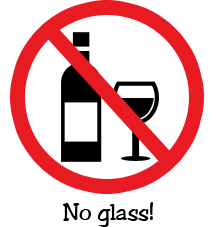 As of July 1, 2016, recycling loads with glass in them will be rejected by Westrock and sent to the landfill.