Our curbside co-mingled recycling program is voluntary and is $6 per month (with 65-gallon recycling rolling cart provided). Recyclables can be discarded together; they will be separated with an air-sorting process at WestRock Recycling Center on County Services Parkway in Cobb County. (Please note: our recycling program is curbside only, not at the house).
Recycling Schedule
Recycling is picked up on your trash pickup day in a different truck.
Items We Recycle and Instructions
Paper: newspaper, magazines, phonebooks and junk mail.
Plastics 1 through 7 (rinse and remove lids).
Aluminum, tin and metal containers (rinse).
Cardboard.
Please do not put anything in your recycling container that is not listed above.
We do not put your recyclables in the trash.
>> See a complete list of acceptable & unacceptable items <<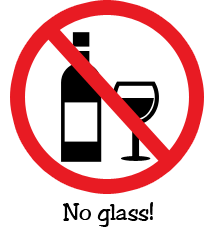 As of July 1, 2016, recycling loads with glass in them will be rejected by WestRock and sent to the landfill.
Customers can take glass to WestRock Atlanta West on County Services Parkway for recycling, but glass cannot be delivered there with our other recyclables because glass broken in truck compactors is difficult to separate and can damage WestRock's separation equipment.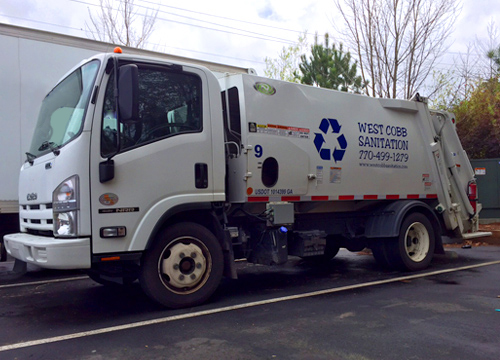 In the past, the recycling center paid as much as $18/ton for recyclable materials; now WestRock charges us $32.50/ton tipping fees. The $6 monthly charge for recycling helps us recover some, but not all, of our costs for providing the service.
Demand for recyclables has diminished. As WestRock explains: "The industry has seen declines of more than 20% in fiber (paper/cardboard) value, while decreases in petroleum prices are driving plastics prices down from 30% to 50% on some grades of plastics."
Accepted in Residential or Commercial Single Stream Recycling
Aluminum & Steel Food
& Beverage Containers
Aluminum Baking Tins
Cardboard Boxes

Pizza Boxes
Kraft Paper
(Grocery & Lunch Bags)
Soda, Beer &
Other Drink Box Cartons
Shoe, Cereal, Tissue
& Other Packaging Boxes
All Junk Mail
Newspapers & Inserts
Mixed Paper
(Calendars, School Papers & Other Forms)
All Other Paper
(Computer Paper, Phone Books, Books)
Catalogs
Magazines
#1 Plastics
Soda and Water Bottles
#2 Plastics
Milk Jugs, Juice Bottles & Other Rigid Containers
#3 Through #7 Plastics
Bottles & Containers
NOT Accepted in Residential or Commercial Single Stream Recycling
| | | | |
| --- | --- | --- | --- |
| Hazardous Waste/Containers | Aerosol Cans Not Emptied | Glass Bottles & Panes | Bio Medical Waste & Containers |
| Construction/Demo Waste Materials | Compressed Gas Cylinders | Paint Buckets/Containers | Tires |
| Ammunition or Firearms | Chemicals or Containers | Batteries | Electronics |
| Garden Hoses | Cables | Food Waste | Metal Furniture |
| Yard Waste | Electronic Cases | Wood | Construction Debris |
| Liquids | Plastic Grocery Bags | Styrofoam | Auto Parts |
Trash & Recycle Bin Cleaning & Sanitation Services

We highly recommend ATL Fresh Cans to clean and sanitize your bins. ATL Fresh Cans will clean your trash and recycle bins for you the day after we  pick up. This helps keep your family safe from harmful germs and bacteria that accumulate in bins as well as reduce pest and rodent activity around the area you keep your bins.